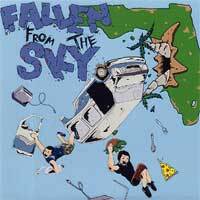 $

5.00
First vinyl release for South Florida's Fallen From The Sky.
Perfect for fans of Set Your Goals, Hot Water Music, and Strike Anywhere.
Limited edition, color vinyl: all inserts are hand numbered. Artwork done by Lars (Kids Like Us). Side A:Victims (new, unreleased) B:Yesterdays Gone. (First song FFTS ever wrote, re-recorded)
These have been out of print but we found a few and put them back in the store.
White /100
Translucent yellow /100
Translucent Green /100
Translucent Blue /200
The green and yellow we have are unique and variants unlike the rest of the pressing!!!