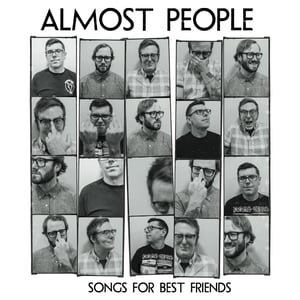 $

15.00
Debut LP from Durham's finest, most handsome, most dapper and 100% most drunk nerds, Almost People!
Limited Color vinyl!!
You wake up on a Sunday afternoon and your head is spinning with memories of the last 48 hours. The highs were high and, damn, the lows were low. Take that feeling, slap an incredibly catchy chorus onto it and you have some sense of what Songs For Best Friends, the debut album from Durham, NC based-trio Almost People, brings to the table. Recorded over a blizzard (and bourbon)-filled week in Asbury Park, NJ with producer/engineer Pete Steinkopf (Bouncing Souls) at the helm, featuring guest appearances from pals like Roger Harvey, Anika Pyle (Chumped) and Jared Hart (The Scandals), Songs For Best Friends is a highly intuitive blend of skate rock, pop punk and guitar-crush indie rock from three guys in matching glasses who have seen it all, done it all, and decided they'd like to hang around and see and do it all a little more. Think you've heard it before? You haven't. Not like this.
When they're not slinging drinks or running sound at Motorco, the legendary Durham, NC music venue where Laura Jane Grace burned her birth certificate onstage, Jonny Clousson, Scotty Sandwich and Kyle Cox bang out self-deprecating, funny and stupidly catchy three-chord jams under the moniker Almost People. Get the idea? These guys spend a lot of time together. Hell, they actually practice at Motorco, the same venue where, by the way, Almost People also happens to host the annual Death to False Hope Fest, which draws DIY punk bands from all over North America, year after year, for a three-day weekend of no-bullshit, no-drama pure awesome. Are you getting the picture yet? Almost People is a family, and everyone who hits up one of their regular basement shows all over North Carolina, or up and down the eastern seaboard, every band who treks to DTFH Fest every year, or even anybody who just buys one their records, becomes part of it.Check it out. Join the family.